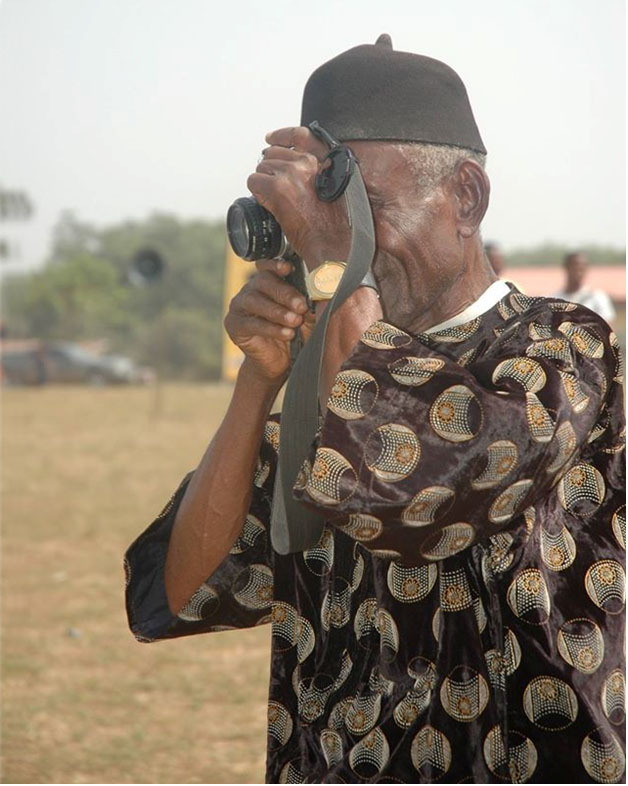 On Saturday 26th Nov 2016, the art world would be bidding farewell to James Anyaogu Agu otherwise known as Jubilee Photos . His Photography career spanned from 1957 to 2016
He was a social photographer, making portraits of the high and mighty in Nigeria and doing documentaries; including school photographs and sporting events.
He started photography from the black and white era and then moved on to color and digital photography.
His base was 84 Hospital Road, Aba,just next to the famous Travelers Lodge hotel, the home base of the Atomic 8 Highlife band.
Jubilee Photos was a contemporary of such other great photo-artists of the time like: Ebony Photos, Utaly Photos, Sunnymakes, Rainbow (SenenAsianya), Glamour (Orji), Masksman, Goddy, All stars Executive Photographers, Jasper (Offor), Tejude, Hailsham and of course the great Aba Giant Killer football forward – Ajasco.
Jubilee covered most of the dance band sessions at the Travelers Lodge. This included the band sessions of the resident band; Atomic 8, such visiting bands like Uhuru Dance Band of Ghana, Ramblers Dance Band, Sahara All Stars from Jos and others.
Jubilee and his assistant – Joe De Kazid and George were on hand to photograph end of year group photographs for schools, football matches and any other social events.
When the civil war took over Aba, Jubilee became a refugee but resurfaced in 1970 to continue from where he stopped.

His carrier moved from black and white photography to colour prints in the Seventies.
Tools of his trade which started with the 10x10 large format view cameras (with hood), to the single lens reflex (SLR) cameras beginning with Canon A1 then to Nikon.
He was not into Polaroid photography of the Seventies and Eighties.
His photography grew and he had not less than ten apprentices at any given time.
He was a photographer to all especially the high and mighty.
He lingered on with the celluloid or analog photography till 2011 when on superior reasoning he was persuaded to enter the digital photography.

Jubilee thus became a genius of both analog and digital photography.
Jubilee was a family man with eight children and his last child Maduka, and former UNIBEN Student joined him to become a photographer.
Until his passing he was an active Photographer.
On 26th November 2016, Jubilee will be laid to rest in his home town of Igbere, Bende local government of Abia state. His numerous shots and enlargements will adorn homes, galleries and albums for years to come.

Adieu Jubilee Photos.