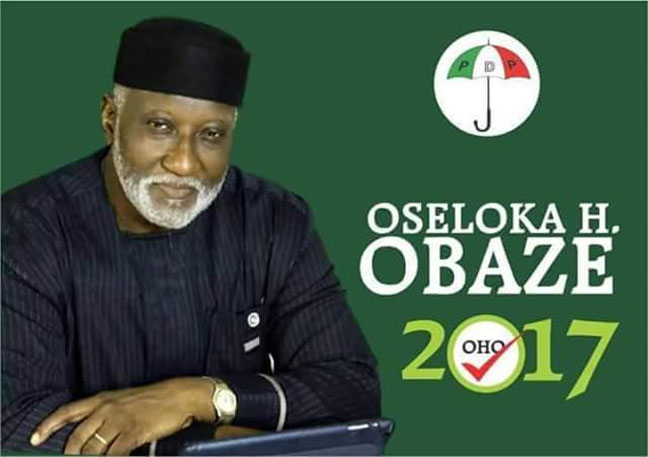 After a thoughtful and thorough analysis of character, reputation, profile, history, experience, and pedigree of all the gubernatorial candidates in the forthcoming governorship election in Anambra State, the Igbobasics editorial board is endorsing Chief Osaeloka Obaze, the gubernatorial candidate and the flag bearer of the People's Democratic Party (PDP) in Anambra State for governor. Over the years, Mr. Osaeloka has demonstrated that he is a man of integrity and probity. His years at the United Nations as well as the works that he did during those years are still pronounced and recounted with superlatives by everyone that knows him in New York. His stint as the secretary to Anambra State Government is concomitant with incorruptibility, competence, and rectitude. Chief Obaze's acuity, diligence, honesty, indefatigability, steadfastness, astuteness, and placidity are together what Anambra people need at this moment in our history.
Chief Obaze is a man that you can take his words to the bank. Unlike many politicians, he doesn't peddle untruths or fabulous promises just to win votes. What he tells you today is what he is going to tell tomorrow. What he says that he will do for Anambra is certainly what he is going to do. If we Anambrarians heap our trust in him by massively throwing our support behind him and voting for him massively in November, Anambra people will certainly see a change that will usher in prosperity, good governance, good jobs, security, self-sufficiency, probity,accountability and equanimity in the state. He will never betray us. A win for Chief Obaze is a win for Anambrarians.
Recognizably, Anambra State is the last stand for APGA. It's well-known that, All Progressives Grand Alliance (APGA) was founded by Dim Chukwuemeka Odimegwu Ojukwu along with Chief Chekwas Okorie and others. With all due respect, it is clear that APGA can no longer sustain itself as a national party. It is very important to understand that Governor Willie Obiano is not the worst governor in Nigeria today. This endorsement is not a vilification of Gov. Obiano. This is also not a thump up for Gov. Obiano because it's clear that he lacks the leadership and the skills to deal with the divisive issues that have been bedeviling the state. The general opinion is that bickering and fights from several quarters is hampering his ability to perform creditably. These battles have been stifling development in the state. Given that these endless battles will not end anytime soon, a reasonable conclusion is that Gov. Obiano will not be re-elected. Even if he wins re-election, the fighting will continue. As the saying goes, when two elephants fight, it is the grass that suffers. The grass that suffers in this case will be the people of Anambra State.
Ordinarily, it might be tempting to support the candidate of the All Progress Congress (APC) because APC is the ruling party at the center in Nigeria. As the ruling party, it is expected that a win will attract federal presence to Anambra State. Unfortunately, this line of argument is heavily flawed if the characters and reputations of the players in the Anambra chapter of APC are taken into consideration. First and foremost, the candidate and his chief supporters represent the most deplorable and obnoxious characters in Igbo land. Secondly, the ruling party (APC) is underperforming.
Most APC states are not faring better than Anambra state. Examples include Osun and Ondo States in the West. Several APC States in the North are worse off. Given the current state of affairs in Anambra state, it's time for Governor Obiano to move on. Bickering between him and several stakeholders is stifling the state. Together, let us pass the baton of state leadership of Anambra Staten to Chief Osaeloka Obaze. He is the man that will lead Anambra State to Promised Land. He is the man of the moment. (More to follow)

Igbobasics.com Editorial Board